Beverly Hills Chihuahua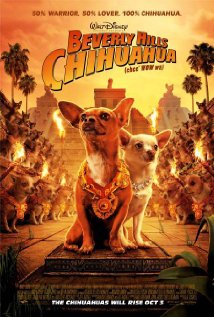 Family Chloe the Chihuahua is the beloved, four-legged companion of cosmetics doyenne Vivian Ashe, who lavishes all of her love and her considerable bank balance on the pampered pooch. When Vivian is called away to Europe on business and the usual dog sitter is indisposed, the doting owner entrusts her most prized possession to selfish niece Rachel, who only wants to party with her friends. To that end, Rachel heads for Mexico on a weekend break with two gal pals and takes Chloe along for the ride. Unfortunately, the snooty Chihuahua is stolen by villanous dog-napper Vasquez. Luckily, a plucky German Shepherd called Delgado steps in to save Chloe and the unlikely partners in crime go on the run for their lives.
Directed by Raja Gosnell
Starring Drew Barrymore, Andy Garcia, George Lopez, Piper Perabo
91 mins
U certificate

Beverly Hills Chihuahua is not currently showing anywhere.