Bicycle Thieves (Ladri Di Biciclette)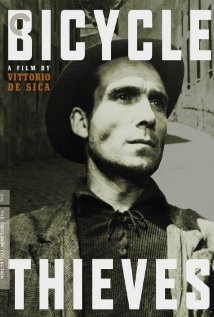 Unemployed father Ricci searches for work so he can provide for his wife Maria and young son, Bruno. One morning, a position becomes available for someone with a bicycle to hang posters across the Italian capital. Ricci seizes the opportunity and successfully retrieves his trusty two-wheeler from the local pawnshop. Unfortunately, the bicycle is stolen - perhaps by another resident in search of a job for his family - and Ricci and Bruno head into the city to track down the thief, without any help from the police, who have much better things to do with their time.
Directed by Vittorio De Sica
Starring Lamberto Maggiorani, Enzo Staiola, Lianella Carell
89 mins

Bicycle Thieves (Ladri Di Biciclette) is not currently showing anywhere.