Casablanca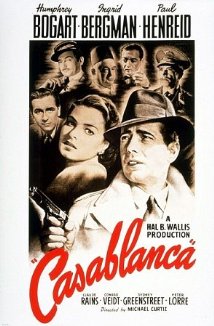 Drama Re-release of the classic 1942 wartime romance with one of cinema's most memorable farewells. American expatriate Rick Blaine runs a cafe in the centre of town, where Europeans often come to obtain exit visas to escape the Nazis. When old flame Ilsa and her husband, resistance leader Victor Laszlo, turn up in Casablanca, Rick faces an agonising moral dilemma: help the woman he loves and lose her forever, or betray her husband to the Germans.
Directed by Michael Curtiz
Starring Humphrey Bogart, Ingrid Bergman, Paul Henreid
102 mins
U certificate

Casablanca is not currently showing anywhere.