A Streetcar Named Desire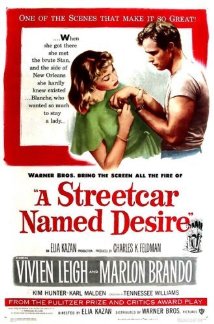 Blanche DuBois travels to visit her sister Stella, hoping to forget the troubles back home in Laurel, Mississippi, where she has been fired from her job as an English teacher for fraternising with a male student. The happy reunion is interrupted by Stella's brutish husband Stanley Kowalski, who controls his wife with an iron fist. Blanche provides a challenge to his dominance within the home and the two clash. The resultant tension undermines the efforts of nice guy Mitch to woo Blanche, and the war of words eventually culminates in a violent assault that shatters Blanche's grasp on her sanity forever.
Directed by Elia Kazan
Starring Marlon Brando, Vivien Leigh, Kim Hunter, Karl Malden
122 mins
15 certificate

There are no showings of A Streetcar Named Desire at the BFI Southbank so displaying all showings of all films.
A Streetcar Named Desire at the JW3 Cinema
| Date | Times |
| --- | --- |
| Tue 25th | |