Arthur Christmas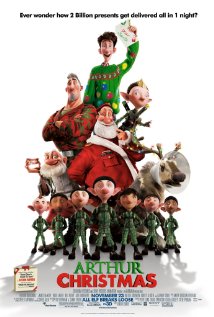 Santa oversees this year's delivery of presents in his hi-tech spacecraft, masterminded with military precision by eldest son Steve. A malfunction in the loading bay goes unnoticed by the elves in mission control and a young girl called Gwen doesn't receive her pink bicycle. With time running out until Gwen's Christmas is ruined, Arthur joins forces with Grandsanta and wrapping elf Bryony to deliver Gwen's gift using the old sleigh and a team of retired reindeer.
Directed by Sarah Smith
Starring Hugh Laurie, James McAvoy, Bill Nighy, Ashley Jensen, Kate Mara, Imelda Staunton, Will Sasso, Jim Broadbent
97 mins

Arthur Christmas is not currently showing anywhere.