I, Daniel Blake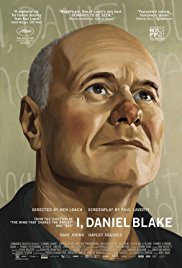 Drama Fifty-nine year-old joiner Daniel has recently suffered a heart attack and his doctor has signed him off work. A letter from the Department for Work and Pensions arrives in the post, which reveals he is not entitled to sickness benefit. In order to qualify for jobseeker's allowance, he has to agree to spend 35 hours looking for work he can't accept. During one foray in search of compassion, Daniel meets feisty single mother Katie and her two young children, Dylan and Daisy.
Directed by Ken Loach
Starring Hayley Squires, Dave Johns, Sharon Percy
100 mins
15 certificate

I, Daniel Blake is not currently showing anywhere.