Get Out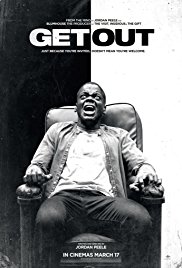 Horror Gifted photographer Chris Washington is nervous about a road trip to meet the parents of his girlfriend Rose. He drives with Rose to her parents' pristine community, where he is warmly welcomed by Dean Armitage and his psychiatrist wife, Missy. Something about the neighbourhood feels out of kilter and Chris is unnerved by the passive behaviour of the Armitages' black groundkeeper Walter and maid Georgina.
Directed by Jordan Peele
Starring Allison Williams, Daniel Kaluuya, Bradley Whitford, Caleb Landry Jones, Catherine Keener
104 mins
15 certificate

Get Out is not currently showing anywhere.