Adaptation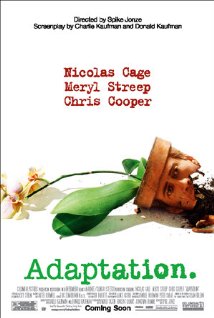 Screenwriter Charlie feels unable to complete a movie adaptation of Susan Orlean's bestselling novel, The Orchid Thief. He tries to gain inspiration by meeting the people involved with the book - namely Orlean and her main protagonist, orchid lover John Laroche. In the process, Charlie discovers more than he bargained for and drags his ebullient twin Donald into a world of ecological theft, murder and Hollywood back-stabbing.
Directed by Spike Jonze
Starring Nicolas Cage, Meryl Streep, Chris Cooper
114 mins
15 certificate

Adaptation is not currently showing anywhere.