Raging Bull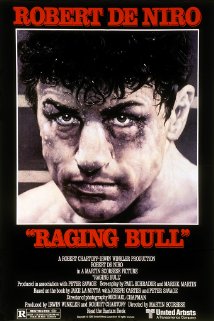 Drama Re-release of Martin Scorsese's loosely biographical picture about heavyweight boxing champion Jake LaMotta. A fearsome fighter on the canvas, LaMotta is consumed by insecurity and sexual jealousy outside the ring, which drives him to beat up his wife Vickie on the suspicion that she has been unfaithful.
Directed by Martin Scorsese
Starring Robert De Niro, Joe Pesci, Cathy Moriarty, Frank Vincent
128 mins
18 certificate

Raging Bull is not currently showing anywhere.