Goldfinger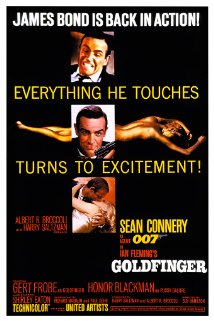 Thriller More than 40 years after it first burst into cinemas, the classic James Bond adventure, which won an Oscar for its special effects, returns to the big screen, starring Sean Connery as agent 007, who must prevent Auric Goldfinger and his pint-sized henchman Oddjob from raiding the gold reserves at Fort Knox. Sexy pilot Pussy Galore has to decide where her loyalties lie - with Auric, or in bed with James.
Directed by Guy Hamilton
Starring Sean Connery, Honor Blackman, Gert Frobe, Harold Sakata
107 mins
PG certificate

Goldfinger is not currently showing anywhere.