Skin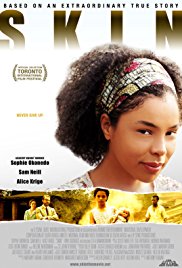 Drama Shopkeepers Abraham and Sannie Laing raise their daughter Sandra and son Leon in virtual isolation in South Africa, hoping to protect the girl from the realisation that she is different from her older brother. When the girl enrols at boarding school, teachers and other pupils make clear their prejudices about her colour and Sandra retaliates. As she grows up, Sandra continues to rail against an unjust system.
Directed by Anthony Fabian
Starring Sam Neill, Ella Ramangwane, Sophie Okonedo, Hannes Brummer, Alice Krige
106 mins

Skin is not currently showing anywhere.