Notorious (1946 Film)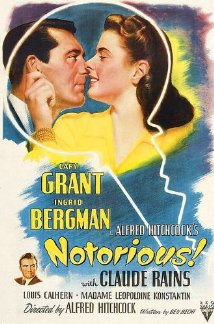 Serpentine tale of deception and intrigue, set during the spring of 1946. Alicia Huberman, whose father was convicted as a German spy, is enlisted by the US government for a dangerous mission: to worm her way into the affections of Alexander Sebastian, the head of a local group of Germans in Rio De Janeiro, who are suspected of nefarious deeds. She trains under local agent Devlin and falls head over heels for her mentor, making it difficult to manufacture a fake romance with her target. Allegiances are tested as Alicia strives to complete her mission without betraying her country or the man she loves.
Directed by Alfred Hitchcock
Starring Cary Grant, Ingrid Bergman, Claude Rains, Louis Calhern
101 mins

Notorious (1946 Film) is not currently showing anywhere.