Crazy, Stupid, Love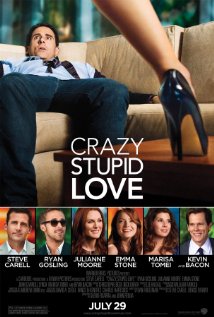 Cal Weaver enjoys a meal with his wife Emily. The silence between the couple speaks volumes and in the car on the way home, Emily confesses she slept with co-worker David Lindhagen and wants a divorce. The cuckolded husband seeks refuge at a cocktail bar where lothario Jacob Palmer takes pity and confidently assures Cal, "I'm going to help you rediscover your manhood." Meanwhile Jacob pursues law student Hannah, who is impervious to his chat-up lines.
Directed by John Requa, Glenn Ficarra
Starring Julianne Moore, Steve Carell, Ryan Gosling, Emma Stone, Marisa Tomei, Liza Lapira, Kevin Bacon, Jonah Bobo
118 mins

Crazy, Stupid, Love is not currently showing anywhere.