A Monster In Paris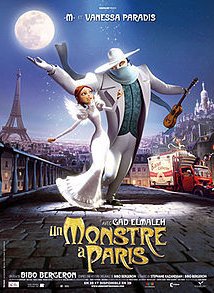 Delivery truck driver Raoul fools around with the chemicals in a greenhouse. There is a massive explosion and the resulting cloud of gases causes a flea to mutate to hulking proportions. The insect bounds across the city, terrifying locals, until it finds an unlikely ally and musical companion in cabaret chanteuse Lucille at the L'Oiseau Rare nightclub. Together, Lucille and the heavily disguised flea, who is christened Francoeur, become the talk of the French capital.
Directed by Bibo Bergeron
Starring Vanessa Paradis, Danny Huston, Sean Lennon, Matthew Geczy, Bob Balaban, Catherine O'Hara, Adam Goldberg, Jay Harrington
89 mins

A Monster In Paris is not currently showing anywhere.