The Pirates! In An Adventure With Scientists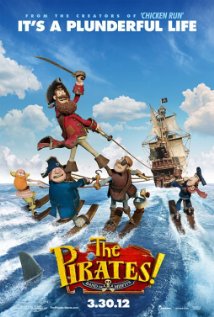 The Pirate Captain is the leader of a ragtag group of sea dogs, whose enthusiasm far exceeds their ability to plunder booty. As a result, The Pirate Captain and his crew are a laughing stock, derided by rivals such as Black Bellamy, Cutlass Liz and Peg Leg Hastings. To prove the naysayers wrong, The Pirate Captain sets out to capture a Bank Of England treasure ship. Instead, he storms The Beagle and captures a young Charles Dickens and his primate manservant, Mister Bobo.
Directed by Peter Lord, Jeff Newitt
Starring Salma Hayek, Hugh Grant, Jeremy Piven, David Tennant, Martin Freeman, Brendan Gleeson, Brian Blessed, Lenny Henry, Imelda Staunton
88 mins

The Pirates! In An Adventure With Scientists is not currently showing anywhere.