Million Dollar Baby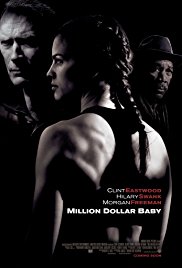 Drama Frankie Dunn is an aging fight trainer who runs an ailing gym in Los Angeles, which is also home to his loyal confidant Scrap. Out of the blue, Missouri waitress Maggie Fitzgerald turns up at the gym and asks Frankie to transform her into a prize fighter, hoping that boxing will help her to escape her dead-end job. At first, Frankie refuses to accede to Maggie's demands - a woman has no place in the boxing ring - but Scrap gradually convinces him of the merits of the idea.
Directed by Clint Eastwood
Starring Clint Eastwood, Hilary Swank, Morgan Freeman
132 mins
12A certificate

Million Dollar Baby is not currently showing anywhere.