8 Mile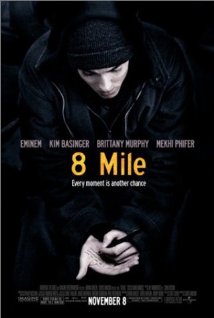 Young rapper Jimmy Smith Jr is desperate to have his voice heard, and to escape life in Detroit with his mother Stephanie and little sister. Spurred on by his girlfriend Alex, Jimmy uses his love of music, and gift for catchy lyrics, to become one of the finest wordsmiths on the rap battle circuit. However, violence and drugs are never far away, and Jimmy's own self-doubt threatens to crush his spirit forever.
Directed by Curtis Hanson
Starring Eminem, Kim Basinger, Brittany Murphy
110 mins

8 Mile is not currently showing anywhere.