The Boxtrolls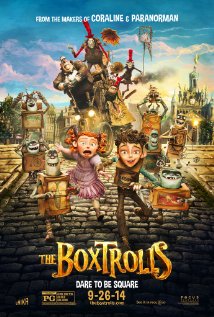 An orphaned boy named Eggs is raised by gentle subterranean creatures that have been unfairly demonised by the terrified, fromage-fixated residents of Cheesebridge. When pest exterminator Archibald Snatcher and his henchmen begin to exterminate the Boxtrolls, Eggs joins forces with the surviving creatures and a girl called Winnie to protect the beasties from harm.
Directed by Graham Annable, Anthony Stacchi
Starring Toni Collette, Elle Fanning, Simon Pegg, Nick Frost, Isaac Hempstead-Wright, Jared Harris, Sir Ben Kingsley
97 mins

The Boxtrolls is not currently showing anywhere.