On Her Majesty's Secret Service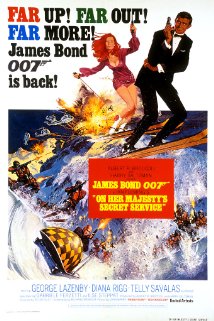 Bond saves the beautiful Contessa Teresa 'Tracy' di Vicenzo from a suicide attempt and her father, crime syndicate boss Marc-Ange Draco, attempts to persuade the agent to marry Tracy. Bond strikes a bargain to romance the countess in exchange for information on Ernst Blofeld. Draco's information leads to a Swiss alpine research institute where SPECTRE is brainwashing ten "angels of death" to do their bidding. To outwit Blofeld and foil the latest SPECTRE plot, Bond must defeat wily henchwoman Irma Bunt but the mission endangers Tracy's life.
Directed by Peter Hunt
Starring George Lazenby, Gabriele Ferzetti, Lois Maxwell, Diana Rigg, Ilse Steppat, Telly Savalas, Bernard Lee
136 mins

On Her Majesty's Secret Service is not currently showing anywhere.