Minions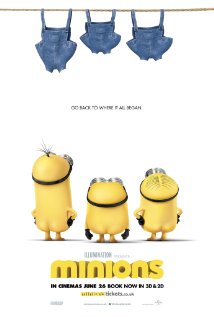 Since the dawn of time, the Minions have gravitated towards the most despicable master they can find. One Minion named Kevin embarks on an epic quest to find a new evil boss for his brethren to follow. Flanked by teenage rebel Stuart and diminutive scaredy-cat Bob, Kevin leaves the Minions' current home in Antarctica bound for 1968 New York City, where he stumbles upon the world's first female super-villain: Scarlet Overkill.
Directed by Pierre Coffin, Kyle Balda
Starring Chris Renaud, Sandra Bullock, Pierre Coffin, Steve Coogan, Allison Janney, Michael Keaton, Katy Mixon, Jon Hamm
91 mins

Minions is not currently showing anywhere.