Tangerines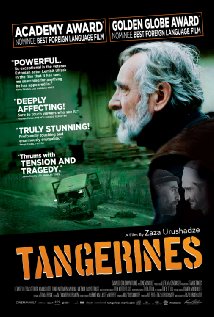 In early 1990s Abkhazia as war breaks out, Estonian farmers Ivo and Margus remain in their village to tend an orchard laden with tangerines. Two small platoons of soldiers on opposite sides of the conflict trade bullets and a Chechen mercenary called Ahmed, who fights on behalf of the Abkhazians, and Niko, who fights for the Georgians, are the only survivors of the melee. Ivo and Margus tend to the two fighters and restore them to full strength.
Directed by Zaza Urushadze
Starring Mikheil Meskhi, Giorgi Nakashidze, Elmo Nuganen, Lembit Ulfsak
87 mins

Tangerines is not currently showing anywhere.