Stray Dogs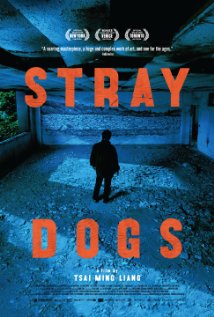 A father earns a meagre crust by holding up advertising placards for real estate developments on the rain-lashed city streets. He returns home to the single room that he shares with his two young children, who scavenge for food during the day. A woman, who feeds the stray dogs that roam free in a derelict multi-storey car park, crosses paths with the father and two children.
Directed by Tsai Ming-liang
Starring Kang-sheng Lee, Shiang-chyi Chen, Lee Kang-sheng, Yang Kuei-Me
138 mins

Stray Dogs is not currently showing anywhere.