Star Wars Episode VIII: The Last Jedi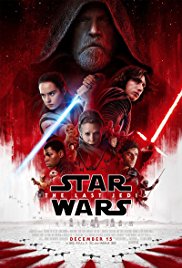 SciFi Luke Skywalker welcomes Rey to his island retreat and he agrees to train her for the war that looms on the horizon against Snoke, Supreme Leader of the First Order, and his vengeful protege Ren. Rey's raw, untapped powers terrify Luke and he begins to realise the pivotal role she will play in shaping the destiny of the rebellion. Meanwhile General Leia is still reeling from her tragic loss and First Order stormtrooper Finn confronts his inglorious past.
Directed by Rian Johnson
Starring John Boyega, Daisy Ridley, Carrie Fisher, Adam Driver, Mark Hamill, Tom Hardy
152 mins
12A certificate

Star Wars Episode VIII: The Last Jedi is not currently showing anywhere.