Peter Rabbit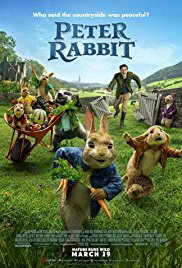 Comedy Peter Rabbit, sisters Flopsy, Mopsy and Cottontail, and cousin Benjamin regularly steal produce from the garden of Old Mr McGregor. During one chase around the vegetable patch, the farmer suffers a fatal heart attack. The old timer's great-nephew, Thomas inherits the farm and decides to oversee a quick sale. He resolves to evict Peter and the other critters from the property before buyers arrive but Thomas is distracted by pretty neighbour Bea.
Directed by Will Gluck
Starring Daisy Ridley, Margot Robbie, Domhnall Gleeson, Rose Byrne, James Corden
95 mins
PG certificate

Peter Rabbit is not currently showing anywhere.