The Third Murder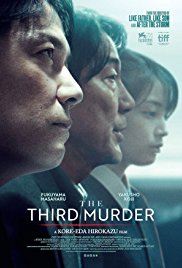 Thriller Brilliant lawyer Tomoaki Shigemori agrees to represent murder-robbery suspect Misumi, who served time 30 years ago for another killing. It seems like an open and shut case: Misumi admits his guilt and there is a strong possibility that the resulting sentence will be the death penalty. Shigemori investigates the mountain of evidence. He sits through detailed testimony from his client and the victim's family, and the conflicting versions of events sow the seeds of doubt about Misumi's guilt.
Directed by Hirokazu Kore-eda
Starring Masaharu Fukuyama, Koji Yakusho, Shinnosuke Mitsushima
125 mins
15 certificate

The Third Murder is not currently showing anywhere.