A Quiet Place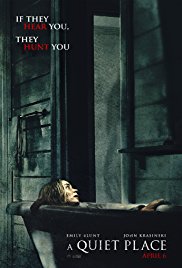 Thriller Mankind has been devastated by the arrival of hideous, sightless creatures, which hunt by sound. Lee Abbott, his wife Evelyn, deaf daughter Regan and son Marcus are among the survivors of this apocalypse. They silently scour for provisions on the outskirts of New York, treading carefully in their bare feet to avoid attracting attention. In a world where a single sneeze could be fatal, Lee, Evelyn and their brood learn heartbreaking lessons about self-sacrifice under intense pressure.
Directed by John Krasinski
Starring John Krasinski, Emily Blunt, Noah Jupe, Millicent Simmonds
90 mins
15 certificate

A Quiet Place is not currently showing anywhere.