I Feel Pretty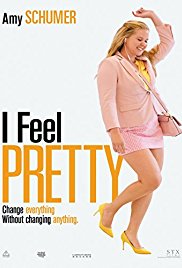 Comedy Renee Barrett works behind the scenes on the website for luxury cosmetics brand Lily LeClaire. By chance, a position for receptionist becomes vacant in the company's plush office on Fifth Avenue in New York and Renee musters her courage to apply. Shortly before her interview, Renee hits her head in the gym and the knock compels the young woman to see herself as magazine spread thin and beautiful. Buoyed by her newfound confidence, Renee dazzles Avery and snags a boyfriend called Ethan.
Directed by Abby Kohn, Marc Silverstein
Starring Michelle Williams, Amy Schumer, Emily Ratajkowski, Tom Hopper, Rory Scovel
110 mins
12A certificate

I Feel Pretty is not currently showing anywhere.