First Reformed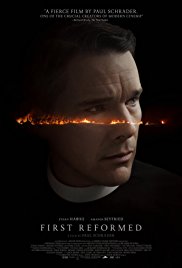 Drama Ernst Toller is a former chaplain in the military, who silently wrestles with the guilt of persuading his only son to serve in Iraq. The young man was killed in the line of duty and every day Ernst bears the burden of grief while tending to his flock at a close-knit Dutch Reformed church in New York. One of the congregation, Mary, approaches Ernst for guidance. She is pregnant with her first child but her environmentalist husband Michael doesn't want the baby.
Directed by Paul Schrader
Starring Amanda Seyfried, Cedric The Entertainer, Ethan Hawke, Michael Gaston
113 mins
15 certificate

First Reformed is not currently showing anywhere.