Mission: Impossible - Fallout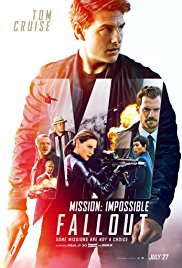 Action Ethan Hunt receives a communication from his superiors at Impossible Missions Force (IMF). The terrorist network known as the Syndicate fronted by Solomon Lane, who is now behind bars, is poised to take delivery of stolen plutonium, which can be fashioned into portable nuclear devices. The sale of the plutonium is being brokered by a black market arms dealer called the White Widow and Hunt must infiltrate the exchange and prevent the payload falling into hands of Lane's disciples.
Directed by Christopher McQuarrie
Starring Henry Cavill, Rebecca Ferguson, Tom Cruise, Ving Rhames, Simon Pegg
147 mins
12A certificate

Mission: Impossible - Fallout is not currently showing anywhere.