I Can Only Imagine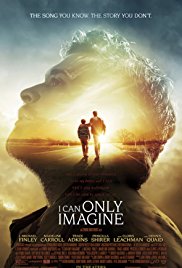 Drama Bart Millard has a difficult relationship with his father Arthur and attempts to impress his old man at high school by joining the American football team. A serious injury puts an end to that dream and Bart signs up for music classes instead. Following graduation, Bart and his father are estranged and Bart seeks his fortune with a band under the guidance of producer Scott Brickell. Bad blood between Bart and his old man haunts the singer and he resolves to lay the ghosts of the past to rest.
Directed by Jon Erwin, Andrew Erwin
Starring Madeline Carroll, J Michael Finley, Dennis Quaid
110 mins
PG certificate

I Can Only Imagine is not currently showing anywhere.