The Last Picture Show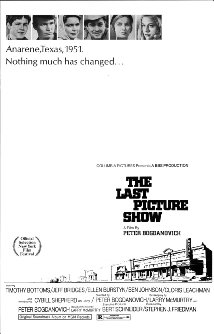 In the 1950s West Texas town of Anarene, high school students Sonny Crawford and Duane Jackson come of age and fall in love with the alluring Jacy Farrow, who is well aware of her power over the weaker sex and exploits her womanly wiles to get what she wants. Meanwhile, Sonny embarks on an affair with Ruth Popper, wife of the high school coach.
Directed by Peter Bogdanovich
Starring Jeff Bridges, Ben Johnson, Cloris Leachman, Timothy Bottoms, Cybill Shepherd, Ellen Burstyn
126 mins
15 certificate

The Last Picture Show is not currently showing anywhere.