Moana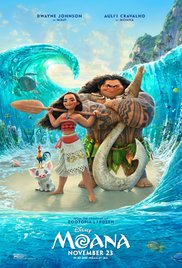 Musical Moana Waialiki is the daughter of Chief Tui and has been groomed since birth to lead her people on the island of Motunui. However, she feels a strong calling to the sea. Moana's wise grandmother Tala fills the girl's head with wild stories about the demi-god Maui, who stole the heart of the island goddess Te Fiti and lost this precious green stone during a battle with ferocious lava demon Te Ka. The old woman encourages Moana to seek out Maui and restore Te Fiti's missing heart in order to bring prosperity to the island.
Directed by Ron Clements, John Musker, Don Hall, Chris Williams
Starring Jemaine Clement, Dwayne Johnson, Alan Tudyk, Auli'i Cravalho, Rachel House, Temuera Morrison
113 mins
PG certificate

Moana is not currently showing anywhere.