Napoleon Dynamite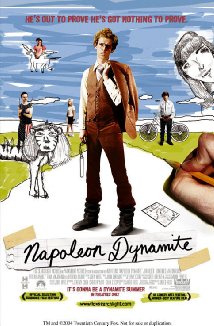 Comedy High school misfit Napoleon Dynamite lives at home with his internet-obsessed older Kip and injured grandmother. Napoleon is bullied mercilessly at school but finds one loyal friend in Pedro, a lonely Latino who stands against the most popular guy in school for Class President. With Napoleon's expert help, Pedro looks certain to secure at least two votes. Meanwhile, Napoleon has worries of his own, such as his burgeoning attraction to Deb.
Directed by Jared Hess
Starring Jon Heder, Jon Gries, Efren Ramirez
95 mins
PG certificate

Napoleon Dynamite is not currently showing anywhere.