Carmen Jones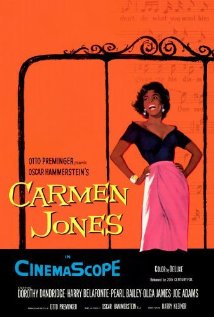 Drama Re-release of Otto Preminger's acclaimed 1954 musical, inspired by Bizet's opera Carmen, with score and lyrics by Oscar Hammerstein III. Army sergeant Joe is looking forward to marrying his fiancee during a period of leave in America's Deep South, but he instantly falls under the spell of the sensual Carmen, who toils in a parachute factory. Proving his devotion to Carmen with a brief spell behind bars, Joe hopes to forge a new life with Carmen. However, fate has other plans for the two lovers.
Directed by Otto Preminger
Starring Dorothy Dandridge, Harry Belafonte, Pearl Bailey
104 mins
U certificate

Carmen Jones is not currently showing anywhere.