Atonement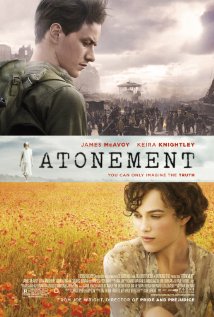 Drama In the baking hot summer of 1935, England stands on the brink of war, and families prepare to bid farewell to fathers and sons. Aspiring writer Briony Tallis escapes harsh reality with her wealthy family at their Victorian Gothic mansion in the countryside. A terrible misunderstanding leads to Briony accusing the housekeeper's son, Robbie Turner, of a crime he did not commit. Forcibly removed from the house, and taken away from his lover Cecilia, Briony's sister, Robbie embarks on a momentous journey from the battlefields back to the woman he loves.
Directed by Joe Wright
Starring Keira Knightley, James McAvoy, Romola Garai, Brenda Blethyn
122 mins
15 certificate

Atonement is not currently showing anywhere.